Overview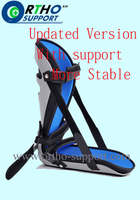 The Achilles tendon connects the muscles in the back of your lower leg to your heel bone. It allows you to move your foot down (?step on the gas? motion). This movement is essential for walking, running, and jumping. A sudden strong contraction of the lower leg (such as when playing sports) can partially tear or rupture the Achilles tendon. This injury is more likely if there is prior injury or inflammation of that tendon from prior stress. You may feel a pop or snap, or like you have been kicked. An Achilles tendon tear will cause local swelling and pain and difficulty in walking. A complete Achilles rupture is usually treated with surgery to attach the torn ends of the tendon. This is followed by 6-8 weeks in a walking cast, boot, or splint. Nonsurgical treatment is an option, but it will take longer to heal and the risk of repeat rupture is greater. With either type of treatment, you will need a physical therapy program to strengthen your Achilles tendon. It will take 4-6 months to return to your former level of activity.
Causes
The causes of an Achilles tendon rupture are very similar to Achilles tendinitis. Causes include. Running uphill. Running on a hard surface. Quickly changing speeds from walking to running. Playing sports that cause you to quickly start and stop.
Symptoms
Symptoms of an Achilles tendon rupture include sensation that someone or something has hit the back of the calf muscle, sudden pain, pain when walking, weakness in the leg, which is particularly noticeable when trying to push off while walking and there is not sufficient strength to do so.
Diagnosis
A physician usually can make this diagnosis with a good physical examination and history. X-rays usually are not taken. A simple test of squeezing the calf muscles while lying on your stomach should indicate if the tendon is still connected (the foot should point). This test isolates the connection between the calf muscle and tendon and eliminates other tendons that may still allow weak movement. A word of caution, Achilles tendon rupture is often misdiagnosed as a strain or minor tendon injury. Swelling and the continuing ability to weakly point your toes can confuse the diagnosis. Ultrasound and MRI are tests that can assist in difficult diagnosis. Depending on the degree of injury, these tests can also assist in determining which treatment may be best.
Non Surgical Treatment
Pain medicines can help decrease pain and swelling. A cast may be needed for 2 months or more. Your foot will be positioned in the cast with your toes pointing slightly down. Your caregiver will change your cast and your foot position several times while the tendon heals. Do not move or put weight on your foot until your caregiver tells you it is okay. A leg brace or splint may be needed to help keep your foot from moving while your tendon heals. Heel lifts are wedges put into your shoe or cast. Heel lifts help decrease pressure and keep your foot in the best position for your tendon to heal. Surgery may be needed if other treatments do not work. The edges of your tendon may need to be stitched back together. You may need a graft to patch the tear. A graft is a piece of another tendon or artificial material.
Surgical Treatment
The procedure generally involves making an incision in the back of your lower leg and stitching the torn tendon together. Depending on the condition of the torn tissue, the repair may be reinforced with other tendons. Surgical complications can include infection and nerve damage. Infection rates are reduced in surgeries that employ smaller incisions. Rehabilitation. After treatment, whether surgical or nonsurgical, you'll go through a rehabilitation program involving physical therapy exercises to strengthen your leg muscles and Achilles tendon. Most people return to their former level of activity within four to six months.